Air & Multipurpose - General Purpose

An economical air and water hose, Horizon is for a wide range of industrial, construction, and agricultural applications. Available in 200, 250, and 300 psi working pressures.

Air & Multipurpose - Heavy Duty

Ortac. II is Goodyears most popular premium quality multipurpose hose for industrial applications. It is found in demanding applications in factories, construction, agriculture, quarries, mines, railroads, the oil and gas industry, and shipbuilding.

Chemical Transfer

A versatile chemical hose capable of handling a wide variety of acids, alcohols, salt solutions, and petroleum-based products.

Cleaning Equipment - High Pressure

Goodyear Neptune 1500 hose is for pressure washer equipment, agricultural sprayers, and high-pressure air lines.

Food Transfer

Nutriflex S & D hose is capable of handling almost every type of dry bulk food material or liquid in gravity flow and vacuum service. Nutriflex conforms to USDA Meat and Poultry, 3-A Sanitary and FDA Standards and is used for transmission of raw and pasteurized milk and other high water content dairy items.

Marine

The USCG/SAE J1527 Type A1 and ISO 7840-A1 Fuel Feed/Vent hose is for marine gasoline tanks. For fuel feed and vent applications on marine pleasure craft. It meets U.S. Coast Guard and International Marine Certification Institute requirements for type A1 service.

Vacuum, Material Handling - Abrasives

The Artrac. hose is used for a variety of abrasive, material-handling applications to transfer sand, gravel, cement, fly ash, glass, metals, plastic pellets, fertilizers, rock salts, and slurries. All sizes are rated at full vacuum.

Material Handling - Bulk Transfer

A static dissipating/static conductive hose for tank truck and in-plant service. Used to convey nonoily abrasive materials such as sand, limestone, and plastic pellets. Recommended where static buildup can be a problem.

Material Handling - Cement & Concrete

For the efficient transfer of sand and cement to the placement mixing gun nozzle. Recommended for all types of gunning applications.

Mining, Water Discharge

Spiraflex. Yellow water discharge hose is for heavy duty applications in mining, agriculture, construction, and marine service.

Aircraft Fueling

Used in the fueling and defueling of commercial and private aircraft. Resistant to jet fuel and higher aromatic aviation gasolenes. Also for use on hydrant service. Meets both API 1529 5th edition, 1998 and European standard BS EN 1361; 1997.

Petroleum Dock Hose

Smooth Bore Dock hose is for the transfer of petroleum based products between docks and ships under all types of service conditions. It is available in a number of tube compounds to tailor the fluid handling capabilities to a wide variety of petroleum and chemical compositions.

Spray

NR Spray is a premium-quality, all-purpose hose for handling a variety of applications such as paint spray or agricultural spray. Will handle spraying paints, automotive finish paints, lacquers, thinners, turpentine, air, oil, and a large variety of solvents and chemicals.

Steam

Chlorobutyl 250 steam hose is used for cleaning, heat control, fire prevention, pumping, thawing, blowout service, steam pumps, and hoists in open-end or permanent installation operations. It is used in refineries, shipyards, chemical plants, steel mills, foundries, and heavy industrial applications where high strength is required and where severe environmental conditions are encountered.

Vacuum

Goodyears GrassVac hose is for lawn, leaf, mulch, and yard waste collection. It is also suitable for dust control, ventilation, and ducting.

Water Discharge

For use in high-pressure fire engine booster service. Also has many applications in other heavy-duty industrial and municipal operations.

Water Suction & Discharge

Medium-duty, light weight construction, retains flexibility in cold weather. Smooth bore tube minimizes material buildup. Slightly corrugated outer helix promotes abrasion resistance, low coefficient of friction and ease of coupling. Common uses can be found in waste management, construction, agricultural, marine, and manufacturing industries. Resists a variety of chemicals found in Agricultural and Sanitary industries.

Welding

Wingfoot. Single Line Welding is for welding service and it meets RMA/CGA Standards for Grade RM welding hose.

Goodyear ready to take hydraulic hose & fittings orders in North America

June 1, 2004 Goodyear launched a broad offering of hydraulic hose, fittings and accessories to its extensive network of Goodyear Authorized Distributors in North America.
With inventory located in the United States, Goodyear is already taking orders and providing the same excellent service customers have come to expect.
Goodyear -- We put innovation to work for you.
When it comes to innovation, Goodyear stands alone. We're your complete source of industrial hoses and couplings with the broadest range in every category. And within those categories are concrete examples of our expertise. Goodyear delivers the highest level of quality and innovation with ideas that are changing the way industry works.
The Products You Need
Like hose assemblies with Goodyear's new Insta-Lock cam and groove coupling, providing a total hose assembly solution for the petro-chemical industry. Or Fortress® washdown hose for the food industry. It takes in-plant sanitation to a whole new level by inhibiting the growth of mold and fungi and is engineered to last the life of the hose.
The Company You Know
Number one in the market and number one in brand recognition, Goodyear is committed to creating and improving products through research and development. And it works: our premier line of standard and custom-built hoses meets virtually every industrial application across the globe.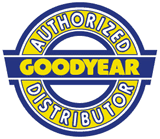 The People You Trust
Your Goodyear Authorized Distributor can help you get more for your money with the most complete product selection, technical training and customer service in the business.